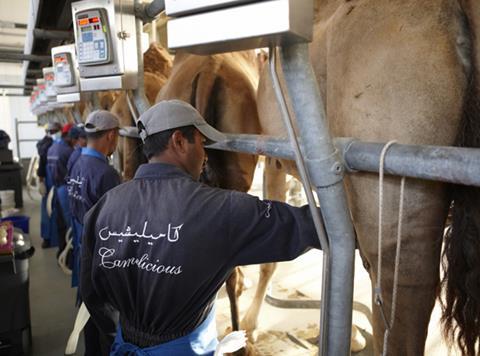 Coffees made with camel milk are set to go on sale at a UK coffee business for the first time on Wednesday (5 February), thanks to The Grocer.
Leading coffee house Taylor Street Baristas will offer a limited number of camel milk coffees at its Bank store from Wednesday. They will also be served at its Brighton store on Saturday (8 February).
Customers will be asked to make a suggested donation of £1 above the standard price of the coffee, and all money raised will go towards the agricultural development charity Farm Africa.
This idea was dreamt up by The Grocer's deputy fresh foods editor Richard Ford, who is raising funds for Farm Africa by running the Brighton Half Marathon on 16 February.
"High-quality products, exploring flavours and helping to develop communities are founding principles of Taylor Street, and running is an obsession of mine. Needless to say, I am incredibly excited about being involved in this," said Andrew Tolley, co-founder of Taylor Street Baristas.
The camel milk is being sourced from Emirates Industry for Camel Milk & Products (EICMP), a camel milk producer based in the United Arab Emirates (UAE), which supplies milk under the brand name Camelicious.
"We are excited to celebrate our debut on the British market by supporting such a noble cause. Our company has a long history of endorsing charities in our region and we are more than happy to help promote sustainable farming worldwide," said Mutasher Al Badry, deputy general manager and business development manager at EICMP.
The milk has around half the fat content of cow milk and has up to five times the amount of vitamin C. It is also rich in unsaturated fatty acids.
"We are thrilled that Richard has chosen to run the Brighton Half Marathon in support of Farm Africa and we love his innovative fundraising idea. I'd like to wish Richard the very best of success for the challenge ahead," added Farm Africa's head of corporate and community fundraising Cathy Wentworth.
Camel milk is used in coffees sold throughout the UAE and in June 2013, EU authorities granted approval for EICMP to import camel milk into the EU. The first products were shipped into the EU in July last year.