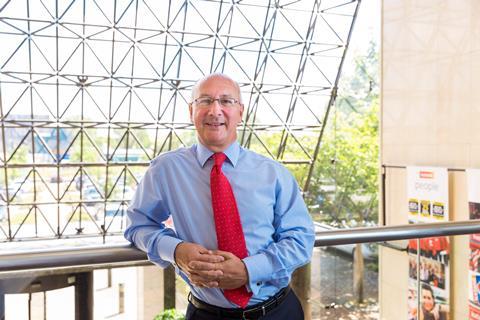 Former Iceland joint MD Nigel Broadhurst resigned after deciding he did not want to be a minority shareholder following a recent management buyout, he has explained.
Broadhurst's surprise departure earlier this month marked the end of a career spanning nearly four decades with the frozen food chain.
Iceland's only explanation was that he had stepped down following the buyout in which the chain's founder and executive chairman Malcolm Walker and CEO Tarsem Dhaliwal took full ownership of the business. The pair bought investment firm Brait's 63% share in June, giving them and their related parties 100%.
Now Broadhurst has said that at the point the buyout was on the table, he decided he did not want to be a minority shareholder in a private company, as Walker and Dhaliwal planned to run the business. After opting to sell his shares as a result, he then decided he did not want to be part of the business without a stake in it.
"We had first choice to buy Brait's shares," Broadhurst told The Grocer. "At that point, I looked at my options and decided it was quite a good exit time for my shareholding.
"Both Malcolm and Tarsem have children in the business and they wanted to own and run it as a private company. That would have left me as a minority shareholder with no clarity as to how to get my shareholding out over time.
"So, we had a conversation. Malcolm said: 'I'd really like to buy your shares. That would give me 51% of the business.'
"It's brilliant that they're going to run it as a private company, it's brilliant that the two of them want to own it between their two families. There's a huge part of me that says that's great for the 25,000 Iceland employees.
"But over the five or six weeks between signing on the dotted line in May and the money going in the bank, I decided that actually it would frustrate me immensely to be part of a business that was growing and successful that I wasn't in the middle of."
Broadhurst said he had decided to take some time for himself and family, including a young grandchild, with two more on the way.
He added: "Iceland has been fabulous to me in terms of my career and the benefit I've taken out of it. I think I've earnt it well, I've put the effort in, and it's been a very fair employer-employee relationship."
Broadhurst has spent much of his career at Iceland, starting as a buyer in 1983. After a seven-year stint away, at Hibernia Foods, Kwik Save and Somerfield, he rejoined in 2005 at the request of Malcolm Walker, who had also just returned to run the business he founded.
Broadhurst was ranked number two in The Grocer's recent Frozen Power List. He is chair of the British Frozen Food Federation, a post he is due to hold until at least November this year.