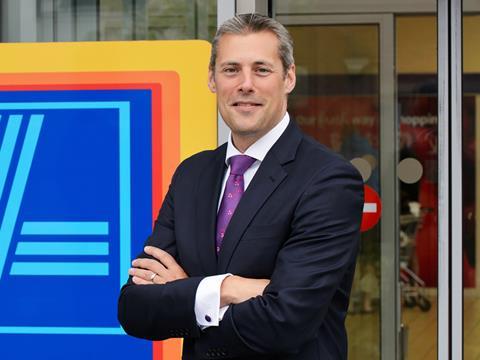 It was only a matter of time before Aldi overtook Waitrose. As quickly as the upmarket grocer has been lapping, Aldi has been the fastest car on the circuit for some time now, and swept past it (on total till at least - Waitrose is still ahead, just, on grocery, and neck and neck on food and drink) for the first time in the latest 12-week Kantar Worldpanel survey (to 29 March).

It's been a remarkable growth spurt. Celebrating its 25th birthday this week, Aldi's share only three years ago was 2.7%. In the latest four-week period, it's 5.4%. So its share has doubled.
It also shows how much it's changed that it's winning customers from Waitrose itself. As its sales accelerated, commentators attributed its growth to a polarising market. But as a recent report by Him! showed, AB (or upper middle class) shoppers now account for 31% of Aldi (and Lidl's) customers - a greater percentage than any other demographic. (A follow-up report this week on the variety discounters suggests upmarket appeal isn't limited to Aldi and Lidl, either.)
The big question is no longer whether Aldi and Lidl can keep growing. It's just how big they will ultimately be"

Adam Leyland, Editor
The big question now is no longer whether Aldi and Lidl can keep growing. It's how big they will ultimately be. Next in Aldi's sights is The Co-operative Group. And as much as that retailer's financial performance is improving, its sales are going backwards, so it surely can't be that long before it too is lapped, even with Aldi and Lidl's sales 'only' growing 16.8% and 12.1%!
Still, for Waitrose and indeed the big four, the Kantar figures actually provide some encouragement: while the numbers for Asda and Morrisons, in particular, continue to disappoint, the fact sales are up 1.1% overall, when deflation is running at -2.5% suggests volumes across the market are growing again (and the 12-week period does not include Easter, either). And in his column this week, Shore Capital analyst Clive Black suggests the discounters will come under greater scrutiny as the novelty value of their new proposition wears off.
But even slowing down, the discounters will continue to carve up the track. This week, Aldi detailed nine new stores opening in London. With a target of 1,000 stores (from its current c.560-strong estate) by 2021 and 1,500 (from 620) in the case of Lidl, that's enough to comfortably double their share from this week's 9% share to 18%.

In other words, if their hunch is right, and their reinvented discounter proposition retains its appeal as (if?) the economy recovers, you ain't seen nothing yet.
We'll be asking Waitrose MD Mark Price what he makes of the discounters, and about how he plans to improve his lap times, when he joins us as The Grocer's guest editor next week. If you have a question for Mark, please send it to @thegrocer or you can email us.