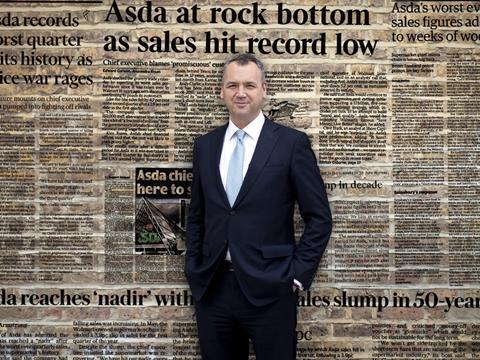 The worst was now over for Asda, Andy Clarke insisted this week. And his key word for the day was "nadir". Like any good politician trying to drum home a key message and embed take-home soundbites into the brains of his listeners, the Asda CEO repeated the word over a dozen times as he assured the packed room of journalists gathered at Carnaby Street for the Q2 results presentation that, after a painful 4.7% fall in like-for-like sales in the 11 weeks to 30 June, green shoots of recovery had been spotted.
"We've certainly hit our nadir; every business has to have one," the Asda boss said. "The nadir of other retailers has been substantial. And this is ours, which we are declaring today. But we're on an upward trend with some positive green shoots in quarter three. In our 50th year, we have led the way as we have gone through what is a very challenging storm for the [grocery] retail market. Whether it is with price investment, launching our strategy, going first with reorganising our structure, we are ahead of the curve. Although we have hit our nadir, we are on an upward curve now."
Audible wince
Clarke and CFO Alex Russo did their best to put a brave face on what was a very tough set of numbers for Asda. The pair smiled and acted relaxed as they said their hellos and projected a front of strength for the business. But there was no hiding the awfulness of the figures. There was an audible wince across the room when Clarke announced the 4.7% drop, with the CEO giving everyone "a moment" to take it in. The worst performance in Asda's history - taking the decline to 4.2% for the half and coming on the back of a 3.9% fall in Q1 - and Sainsbury's stealing its spot as Britain's second-biggest grocer.
Clarke appealed for calm, stressing Asda was two years into a five-year strategy. "We want to reinforce it is working and we're wholly committed, as our parent is, no matter what the short-term disruption might be around us," Clarke added.
But if the plan is working, and sales slump 4.7%, what sort of a plan is it? Clarke's insisted a correction was inevitable as rivals introduced new strategies of their own.
Clarke was also at pains to point out that Asda's performance should be viewed in the context of a grocery market in "meltdown". While short-sighted rivals abandoned profits for the sake of a quick boost to flagging top-line sales with massive investments in price and extensive vouchering - a recurring bugbear for Clarke - Asda improved its operating margins by +30 basis points in the quarter thanks to its low-cost operating model, Russo pointed out.
In the same slide (see table) he also showed Asda's balance sheet write-off for property impairments standing at "nil", compared with £7bn for Tesco, £700m for Sainsbury's and £1.3bn for Morrisons. This means Asda does not need to sell off assets to shore up its books.
And George was also "storming ahead in every single dimension that it is looked at".
The $64m question is: what does the next phase of the five-year plan look like? Clarke was loath to give anything away. Asda is expanding its channels and its geographic reach, with more click & collect and petrol station openings, as well as new stores in the South, where others are cutting back, he said.
But there was little evidence on show to back up the claim the worst is now behind Asda, but Clarke said the positivity of the trend through Q3 so far gave him confidence that Q2 was indeed the lowest point.
What he didn't mention was the work going on behind the scenes. Like the appointment of George's brand director, Fiona Lambert, as vice president of own-label product design and development. Or the fact he has taken just shy of 50 people off their day jobs who have spoken in depth to 15,000 customers about how their shopping habits have changed since the strategy launched, why they switch supermarkets, shopping frequency, what they buy and why, brand v own label etc. That team - running the Market Leading Value Proposition project - have analysed 35 million pieces of data. Over the next few months, the outcome will inform changes to trading strategy - range, quality and service.
At the opening of the presentation, Clarke said he was surprised to see so many new faces in the room and he wanted to quash any rumours circulating that he was on his way out of Asda. "Here I am presenting the quarterly results, and I'm here to stay," he said. But one thing is clear: if those green shoots aren't real and blooming by the end of the year, that decision may well be out of Clarke's hands. The clock is ticking.