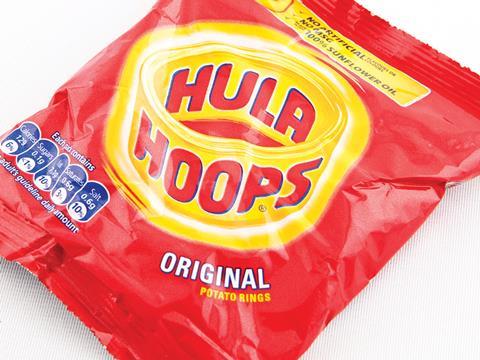 Losses have escalated at KP Snacks in its first full year under the ownership of Germany's Intersnack.

Reported losses for the year to 3 January 2015 rose by 45% to £11.5m from £7.9m in 2013.

KP was hit by £11.7m of restructuring costs related to the integration of the business into Intersnack (up from £6.8m of restructuring costs in 2013) and £7.9m of interest payments.

Before these charges KP made an operating profit of £8.9m, though this was 42% down on the £15.4m of pre-exceptional operating profits recorded in 2013.

The year-on-year comparisons are not exact as the latest accounts cover the period between 29 December 2013 and 3 January 2015, while the previous accounts cover a shorter period of 25 January 2013 to 28 December 2013.

Writing in the accounts, KP said the year was "challenging… with significant economic headwinds and a weak market".

The Hula Hoops maker said it had delivered underlying branded sales growth, but that "in an intense competitive environment it has been difficult to pass higher input costs on to our customers."

Revenues for the period were up by 14.4%, helped by the longer financial period.

Employee costs rose by 19.5% to £56.6m as over headcount rose to 1,638 from 1,583 last year.

Towards the end of the period KP confirmed it would close its UK factory in Consett, which produced the Phileas Fogg brand and employed around 100 people. KP subsequently announced 70 redundancies at the site, with 29 employees relocated.

However, KP said in the accounts it would continue to invest in NPD, modernising its production processes and technology to "accelerate growth and drive innovation".

Intersnack agreed to buy KP from United Biscuits in December 2012 for a reported £500m.