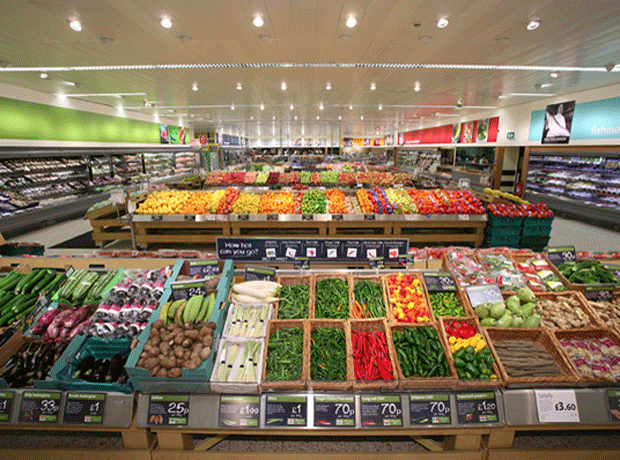 Morrisons' share of the market has slipped from 11.8% to 11.1% year on year, new figures have revealed.
The retailer, which reports its full-year results on Thursday, saw sales fall 3.2% for the 12 weeks to 2 March, Kantar Worldpanel said today.
It was the sharpest sales fall of any of the big supermarkets, which now occupy a "shrinking middle ground", according to Kantar.
Sainsbury's was the only major supermarket to hold share – unchanged at 17% – while its sales growth of 2.2% matched overall market growth.
Tesco sales fell 0.6%, with its share slipping to 28.7% from 29.6% last year. Asda held onto the second-place spot, with sales inching up 0.6%, to take a 17.5% share.
Elsewhere, Aldi and Lidl continued to swipe ground from the big four, posting sales growth of 33.5% and 16.6% respectively. Aldi's share was 4.3%, up from 3.3% last year, while Lidl's share was 3.2%, up from 2.8%.
Waitrose likewise continued its upward trend, growing sales 6.2% to capture a record 5% market share.
And there was some good news for the beleaguered Co-op, which grew sales 0.7% in the period. Its share was largely unchanged at 6.1%.
"Over the past three years Waitrose, Aldi and Lidl have taken a combined 3.5 share points from the competition, which equates to £4.4bn per year," said Chris Longbottom, director at Kantar Worldpanel. "This has put pressure on the big four supermarkets to compete for a shrinking middle ground and cut prices to directly combat the discounters."