Voice is loud at CES, but retailers should be wary
Hey Google' proclaim posters across the Las Vegas monorail and convention centre as the Consumer Electronics Show (CES) opens its doors for 2018. The search giant's ad dominance on the strip is a fitting welcome: voice-activated virtual assistants are the battleground at this year's show.

The migration of digital assistants from our phones to our homes and cars caught on fast, and a spike in Christmas sales of Amazon's Echo units show that mainstream appetite is still growing. This year Samsung is using CES as its bid to enter the race with Bixby, while Sony is marketing speakers that incorporate existing voice platforms.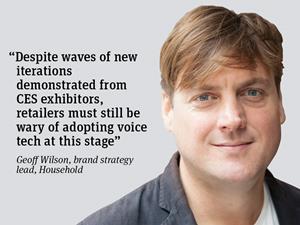 Amid the buzz, retailers are rightly curious to know how they might integrate voice assistants to their retail experiences.

CES is a playground for futurologists. Amid the hype, it can be hard to spot potential viable assets for retail brands. Despite waves of new iterations demonstrated by CES exhibitors, retailers must still be wary of adopting voice tech at this stage.

Significant as these assistants are, they currently inhabit a 'toy phase' - a period of novelty and restricted use. It is not an opportune moment for retailers to snap up Echo for their shelves or Google Assistant for their checkouts - these devices simply aren't sophisticated enough to sustain meaningful, highly variable interaction. However, the intelligence that both devices have access to could be an invaluable tool for your retail workforce.

Customers now come to stores often with deeper understanding of the specifications, reviews, ratings and reputations of the products than store assistants.

So what if shop-floor staff were empowered by the information access provided by the data giants? Could Alexa be used to access customer reviews and ratings direct from Amazon? Or Google Assistant to support store teams with customer insights and shoppers with tailor-made offers? The in-store experience then becomes less transactional, and a dialogue can be re-established with customers.

Bridging the gap between in-store teams and the vast store of intelligence out there is a question of new training for hybrid skills. Retailers must be able to use data and tech as tools applied with human intuition and emotional intelligence - setting a new standard for customer service.

Looking slightly further ahead, more retail-specific innovations at CES include facial and gesture recognition. With the promise of more bespoke services and data-gathering opportunities, these are attractive features - but when issues of privacy, trust and security are at the forefront of customers' minds, adoption could be challenging. In an age of privacy concern and demands for transparency, brands can always do more to educate their customers on the data exchanges going on behind the scenes, and the benefits for both parties.

CES showcases a host of technologies, like voice, which await their 'killer app' to turn hype into action. Smart retail brands will be exploring how to make these innovations part of an ownable brand experience, employing only that which provides real customer benefit.

Geoff Wilson is brand strategy lead at Household