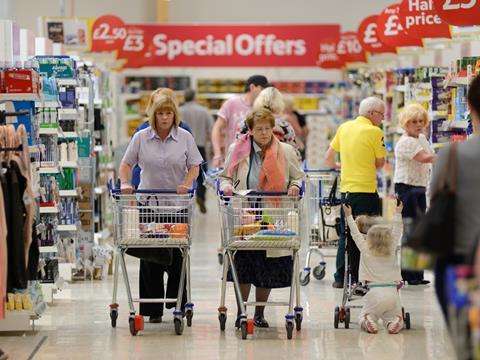 Top story
Retail footfall fell back another 0.8% in July as the hot weather hit shopper numbers, but the high street showed a modest recovery after numbers plunged last year.
The BRC Springboard Footfall and Vacancies Monitor's 0.8% drop in overall retail footfall was in line with last month's decline of 0.9% and a slight improvement on July 2017's decline of 1.1%
The high street posted growth of 0.3%, which is the third month of consecutive growth. However the high street number is against an extremely weak comparable of a 2.1% fall in July 2017 so it was "relatively easy to beat" according to the BRC/Springboard.
Footfall in retail park locations declined by 0.5% in July in comparison to July 2017, when Footfall increased by 1.7 per cent.
Footfall in shopping centres plunged 3.4% last month, a deeper decrease compared to the 1.3 per cent decrease in July 2017.
The national town centre vacancy rate was 9.2% in July 2018, unchanged from April 2018 and down from 9.6 per cent in July 2017. Most regions remain largely unchanged since April 2018, the most improved region being West Midlands now 10.2% from 11.8% in April.
BRC chief executive Helen Dickinson commented: "The hot, dry weather in July turned consumers' attentions to eating, drinking and enjoying the outdoors. That provided a small lift for high streets as shoppers popped out to grab food, drink and fans to keep cool. However, the heat sapped shoppers' stamina for longer trips with both retail parks and shopping centres seeing footfall sink.
"Aside from short-term weather impacts, there's no escaping the fact that retail is changing. With fewer people visiting physical stores and fewer purchases being made there, at the same time as costs are going up year on year, it's no surprise that we're seeing many retailers reduce their store portfolios.
Diane Wehrle, Springboard marketing and insights director, added: "Inevitably the hot weather in July impacted visits to retail destinations as the attraction of external environments and non-retail experiences lured consumers away from stores.
"With the announcement of store closures made, but not yet all implemented, the vacancy rate for the UK remains at 9.2%. Counter-intuitively the vacancy rate improved over the quarter in five geographies, however, this may be accounted for by temporary lets over the summer taking advantage of space released from stores that have already ceased trading."
Morning update
2 Sisters Food Group has announced a number of personnel changes as it restructures its operations.
To drive the turnaround of all poultry operations in the UK & Europe it will merger its UK Poultry and Added Value divisions.
Current UK Poultry MD Keith Packer will lead the merged divisions, with operational support from Director Antonio Boparan, who will also head up subsidiary Amber Foods.
Also, group technical director Chris Gilbert-Wood has decided to retire in 2019. As a result, the Group is hiring Greencore group technical director Helen Sisson, who will join the business in early 2019.
Commercial director Frank Robinson will leave in November and handover to Dan Howell, who takes up the role after 10 years at Muller, most recently as commercial and strategy director for Muller Milk & Ingredients.
UK consumer spending fell 0.9% in July according to new figures from credit card company Visa.
Visa reported a drop of 1.2% in face-to-face retail spending in July compared to the same month in 2017, with even online spending falling by 0.5%.
The early summer heatwave and the World Cup boosted food, beverages and tobacco spending by 3.5%.
But recreation and culture spending plunged 3.9% and spending on household goods dropped 3.2%.
Visa's chief commercial officer Mark Antipof said: "Household budgets are stretched. Retailers had a difficult time in early 2018, and while there was some respite in May and June, July's fall in spending is concerning, particularly as we look ahead when the impact of the interest rate rise and back-to-school costs will likely put further pressure on Britons' wallets."
On the markets this morning, the FTSE 100 has opened the week down 0.6% to 7,618.1pts amid worries over Turkey's currency crisis.
Most stocks are in the red, but the early falls are relatively modest.
FTSE 100 stocks on the way down include Ocado (OCDO), down 1% to 1,034p, Coca-Cola HBC (CCH), down 1% to 2,619p, Sainsbury's (SBRY), down 0.9% to 330.9p, Tesco (TSCO), down 0.9% to 263.9p and Marks & Spencer (MKS), down 0.8% to 300.1p.
The few sector risers include Nichols (NICL), up 2.4% to 1,486.8p, Stock Spirits (STCK), up 1.5% to 208.5p and Premier Foods (PFD), up 1% to 42.4p.
This week in the City
We are firmly in a mid-August newsflow slump this week, but Walmart's (WMT) interim earnings release on Thursday stands out as they obvious major focus of the week.
On a global level investors will be looking at the extent Walmart's heavy investment in online businesses and its own US online retail operations has boosted revenue growth.
In the UK the focus will be on whether Asda can continue its momentum from the first quarter, where like for like sales jumped 3.4% in the first three months of the year. Additionally the City will be keen to hear any updates on the proposed UK grocery mega-merger with Sainsbury's.
Elsewhere this week, German household goods supplier Henkel (HEN) will issue its interim earnings on Thursday, while in the UK John Menzies (MZNS) will issue its first half results tomorrow.
Wednesday brings the official inflation figures for the UK, which will be of particular interest given the Bank of England's decision to raise interest rates last week.
Thursday brings the ONS monthly retail sales figures.