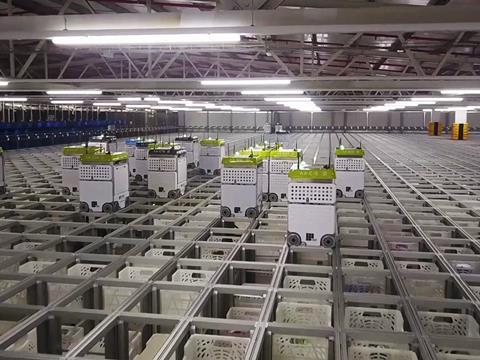 Top story
Ocado (OCDO) has signed an agreement with Canada's second largest food retailer Sobeys to develop an online grocery business using its Smart Platform technology.
Ocado will partner Sobeys exclusively in Canada to launch their end-to-end solution for online grocery services.
This will include front-end web site functionality, construction of Ocado's latest generation automated warehouse – including Ocado's grid and robots - and last-mile routing management technology.
Sobeys and Ocado will develop their first Customer Fulfilment Centre in the Greater Toronto Area. The build is expected to take approximately two years.
In addition to this initial CFC, Sobeys and Ocado will consider developing other CFCs in Canada's dense urban areas.
In consideration of the investments made by Ocado, including maintenance and access to technology, Sobeys will pay Ocado certain upfront fees upon signing and during the development phase, then ongoing fees linked to installed capacity within the CFC and service criteria.
Sobeys and Ocado will also partner to incorporate "ongoing learning and innovation" from Ocado's global experience into the Canadian business.
Ocado expects this deal to create "significant long term value" to its business.
The UK-listed grocer Ocado expects the transaction to be earnings neutral in the current financial year with the costs of establishing the partnership, offsetting the initial fees payable. Ocado expects to incur additional capex of £15m in the 2018 financial year to support this partnership and accelerate the development of our platform, with further capex in future years.
In Ocado's 2019 financial year and beyond the profitability of Ocado Solutions is likely to grow as the fees from the transaction increase, and as other deals are signed.
Luke Jensen, CEO of Ocado Solutions, commented: "Channel shift to online in North America is gaining pace as consumers increasingly seek the benefits of grocery shopping from the comforts of their own homes, and as retailers attempt to offer services to meet this growing customer trend. We are pleased to be partnering with innovative and forward-looking retailers such as Sobeys.
"Soon Sobeys, along with Ocado, Morrisons and Groupe Casino will be powered by Ocado Smart Platform, sharing a common goal of harnessing the best technology for grocery ecommerce to win in their markets. We look forward to welcoming more major grocers to this list going forward".
Michael Medline, President & CEO of Sobeys, added: "Sobeys intends to play to win in Canadian online grocery shopping. We are very excited to bring this best-in-the-world grocery ecommerce experience to Canadian customers. This unique and innovative Sobeys and Ocado experience will offer consumers the biggest selection, freshest products and most reliable delivery available anywhere on the planet. Our end-to-end ecommerce solution will allow Sobeys to build an online offer in a manner that is profitable and creates exceptional value for our customers, investors and supplier partners."
Sobeys is Canada's second largest food retailer, operating more than 1,500 stores across the country, and generating sales of C$23.8bn in fiscal 2017.
In late November Ocado revealed it had signed a similar partnership with French retail giant Casino to launch an online delivery service in the country.
Morning update
Ocado has surged 11.2% to 461.2p so far this morning - its highest share price since the first half of 2014.
The FTSE 100 has had a more modest start to the week, rising 0.1% to 7,736.4pts so far this morning.
In addition to Ocado, Fevertree (FEVR) is up 5.7% to 2,520.6p this morning, Premier Foods (PFD) up 4% to 41.6p, Hilton Food Group (HFG) has risen 2.9% to 858p and McBride (MCB) is up 2.1% to 182.3p.
Fallers include Real Good Food (RGD), down 2.1% to 22.5p, PureCircle (PURE), down 1.5% to 417p, Hotel Chocolat (HOTC), down 1.3% to 340.5p and SSP Group (SSPG), down 1.1% to 638p.
This week in the City
We may be coming towards the end of the Christmas trading update period, but there are plenty of scheduled announcements in the diary for this week.
Tomorrow brings a first quarter update from travel food specialist SSP Group (SSPG), while pub group and brewer Marston's (MARS) will issue a trading update ahead of its AGM. In this US, Procter & Gamble (PG) will issue its second quarter results on Tuesday.
US-focussed grocery group Koninklijke Ahold Delhaize will issue its full-year trading statement on Wednesday, while in the UK WH Smith will release its Christmas trading figures on Wednesday morning ahead of its own AGM. Hotel Chocoat (HOTC) also has a trading update scheduled for Wednesday.
Thursday brings half year results from FTSE 100 drinks group Diageo (DGE), while brewer and pubco Greene King (GNK) issues a third quarter trading update on the same day, while PayPoint (PAY) is scheduled to issue a trading update.