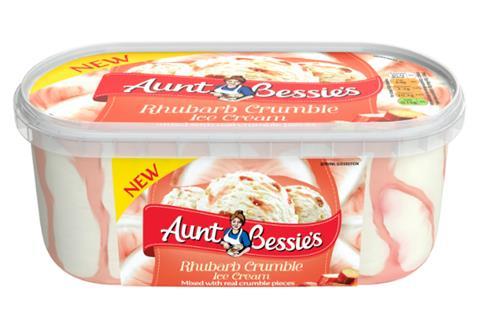 Frozen food brand Aunt Bessie's has moved into sharing tubs of ice cream for the first time, with a range inspired by popular British desserts.
Rolling out from 25 July, the NPD comes in a 900ml format (rsp: £3) and comprises three variants: Lemon Meringue Pie (featuring pieces of meringue and shortbread), Rhubarb Crumble (with crumble bits), and Jam Roly Poly (which includes sponge pieces and custard-flavoured ice cream).
Aunt Bessie's launched single-serve ice cream in March 2012 as part of plans to expand into the cold desserts category – but this is the first large tub for the brand, which is owned by the William Jackson Food Group.
The NPD – available at Morrisons – joins Aunt Bessie's cold-eat desserts, including the Chocolate Millionaires and Raspberry Stacks launched in March.
Adding ice cream inspired by British puddings "felt like a natural next step for us," said marketing manager Andrew Wade. "Shoppers buy Aunt Bessie's because they trust the brand and enjoy shopping across our range."