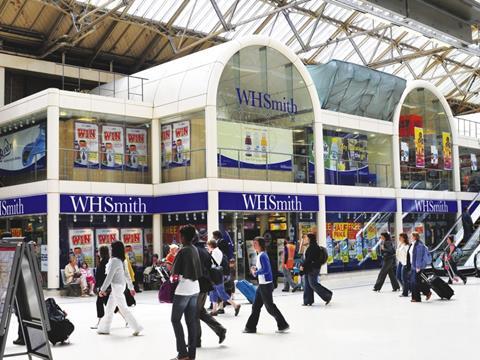 UK retailer WH Smith has unveiled plans to buy US airport chain InMotion in a £155m deal to double its travel business, as part of a strategic shift amid declining high street sales (Financial Times, The Times £). The books, stationery and convenience retailer said on Tuesday it had agreed to acquire InMotion, the largest airport-based digital accessories retailer in North America, from private equity firms Bruckmann, Rosser, Sherrill & Co and Palladin Consumer Retail Partners. InMotion, which has 114 shops in 44 airports and sells headphones, plug adapters, and other travel accessories will be the UK newsagent chain's first foray across the Atlantic (Telegraph). The deal, worth $198million (£155million), has gone some way to reviving WH Smith's shares, which tripped up a few weeks ago. But, at £18.00 today, they are still a long way off the £23.50 they reached last Christmas (Daily Mail).
Reckitt Benckiser stumbled in the third quarter after manufacturing problems at a Dutch factory making infant formula left it unable to meet demand, disappointing investors who had hoped that a long-promised turnround was taking hold (Financial Times). The maker of Dettol, Durex and Gaviscon said the manufacturing disruption "took a while to investigate" meaning the supply of certain products to markets outside North America could not be met, resulting in a lower-than-expected revenue of around £70m (Telegraph, The Times £). More than £2billion was wiped off the value of Reckitt Benckiser after the consumer goods giant revealed its Dutch factory had been hit by major disruption (Daily Mail).
Alistair Osborne in The Times (£) writes: "The delightful Mead toddler has just shown why it's still in nappies with a "temporary manufacturing disruption" at its Dutch infant formula plant — its only one outside China with a licence to sell into that lucrative market. Worse, it coincided with a "period of unusually high market growth" in Asia, with the timing all the more unhelpful because a new Australian facility also due to sell into China wasn't yet up and running."
The FT's Lex columnist said Ocado's update on its deal with Kroger provided "tantalising glimpses" of the relationship. It added: "To some supermarket chains around the world, an Ocado fulfilment system looks like a means to steal a life-saving march on Amazon. As a proportion of their sales shifts online, the UK business would reap tidy annuities."
The Restaurant Group has defended its £559m purchase of Wagamama after analysts and investors criticised the deal as too expensive and balked at the dividend cut and fundraising that accompany it, sending its shares sharply lower (Financial Times). Shares sank 13% as the company announced plans to tap investors for £315m and take out £220m of new loans to fund the deal (Telegraph, The Guardian). Restaurant Group chief executive Andy McCue said the deal will 'create substantial value' for shareholders - who however were not impressed by the news (Daily Mail, The Times £).
UK retail sales growth slowed significantly in October as British consumers reined in their spending after a summer spree fuelled by warm weather and the World Cup, according to the latest industry figures (The Guardian). The latest snapshot from the Confederation of British Industry showed retail sales growth dropped to the weakest level since April, while separate government figures showed an increasing number of UK companies entering insolvency as trading conditions remain tough on the high street.
Vegans have long championed the health benefits of their diet and now they can point to research suggesting that cutting out meat and dairy can keep type 2 diabetes in check (The Times £). Patients following a mainly plant-based or vegan diet had better blood-sugar control and lost nearly twice as much weight as those on other diets, according to the review of studies.
Luke Johnson is facing mounting pressure to step down from the Patisserie Holdings audit committee ahead of a shareholder meeting to approve a £15.7 million rescue share issue (The Times £). Shareholders are expected to approve the fundraising, which the company has made clear is necessary for its survival after the discovery of £40 million black hole due to "significant, potentially fraudulent accounting irregularities".
The Daily Mail's Dastardly Mr Deeds wrote: "Patisserie Valerie wasn't allowing journalists to attend today's emergency meeting until a U-turn late yesterday evening. This was the result of a 'misunderstanding', we are assured, rather than chairman Luke Johnson's noted aversion to the press."
Bunge, the 200-year-old grain and oilseeds trader, is planning to establish a board committee to explore a sale of the company, in a deal with two activist shareholders including an agricultural investor with an even older grain trading pedigree (Financial Times).