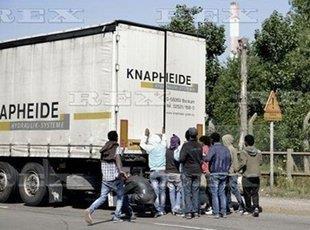 The Freight Transport Association (FTA) is offering members a combined carbon dioxide (CO2) emissions sensor and worldwide tracker that will detect illegal migrant stowaways but which, it admits, will not prevent spoilage of fresh produce.
The portable device from manufacturer 360 advantage picks up CO2 emissions within a 40ft range, and can send text or email alerts to the driver or transport manager.
The settings can be adjusted so produce which emits CO2 does not sound false alarms.
An FTA spokeswoman said the device, which is integrated with Google Street Maps, would help ensure drivers were not hit with £2,000 fines for each stowaway.
The manufacturer said the detector would help transportation companies avoid the issues of immigrants gaining access to their trailers causing damage to the vehicle and contaminating the load.
However, an FTA spokeswoman admitted that if a migrant had already gained access, it would be too late to avoid product contamination by the time the device detected a stowaway and would still have to be destroyed.
But she added that it would hopefully be a deterrent in much the same way as a burglar alarm was for property.
"It's a very cheap option compared with other things that have to be wired in. It's not fool proof and not the complete answer, but anything that can help our members in any way is useful at the moment."
"Anything that makes it safer for drivers to do their job is to be welcomed," said James Hookham, deputy chief executive of the FTA. "This sensor removes the need for them to check their own trucks – something that puts them in serious danger in Calais where there are thousands of migrants milling around.
The FTA is offering the £299 + VAT device for £199 + VAT to members. It has a battery life of between two and four months and requires an £11.99 plus VAT monthly subscription.