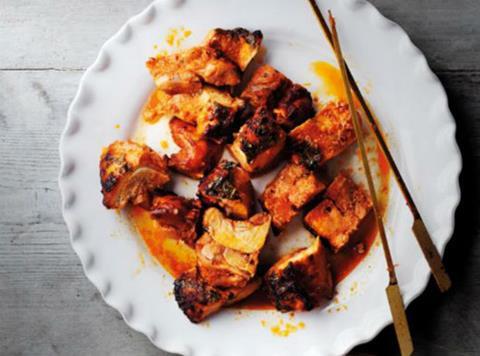 Waitrose has been rolling out a new barbeque range inspired by flavours from around the globe over the last month.

The selection of 35 products includes a sharing buttermilk chicken kebab, sardines and treacle-cured steak, with many items across the range made with ingredients such as sriracha, yuzu, black garlic and miso.

The Buttermilk Chicken King Kebab (£7/924g), for example, is made up of chicken thighs marinated in buttermilk to keep the meat tender with a smoky Louisiana-inspired rub, while the Yuzu and Miso Butterflied Pork Fillet (£7) is hand-butterflied and brined in yuzu juice, mirin and salt, before being hand-coated in a Japanese rub made up of red miso, tamarind, porcini, garlic, five spice powder and dried red bell pepper flakes.

Waitrose has called this its "ultimate barbeque range", which comes hand in hand with barbeque inspiration and recipes on its website.

"Barbecue season is always the perfect opportunity to offer new flavours to our growing range. This year we were inspired by the wonderful flavours from Asia, America and Europe and the unique smoking techniques created in these global cuisines," said Nicki Hobbs, Waitrose buyer, "We've tried to incorporate ingredients including yuzu and sriracha and different woods and charcoals to create the delicious smoked meat flavours that we know our customers will love."

This range comes just as Waitrose also unveiled its largest ever range of meet-free foods, announced earlier this week. It will introduce over 50 new vegetarian and vegan lines from next month.