Vince Bamford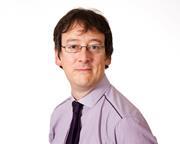 Vince Bamford is The Grocer's Buying & Supplying Editor, and oversees print and online coverage of news related to issues including sourcing, new product development, branding, marketing and advertising.

Areas of particular personal interest include confectionery, beer & cider, bread, ice cream, free-from and marketing innovation. He also loves a good factory visit.

Vince has been a journalist longer than he is willing to admit, having started out on local newspapers in the mid-1980s. Career highlights include crashing a 747 Jumbo Jet (while writing about flight simulators); and covering a murder, gun siege and riot in a single night.

Vince's interest in the grocery trade began with a Saturday job on the deli counter in Spar. @VinceBamford
Contact Info
Tel:

01293 610369

Email:
Recent stories
Tesco and Waitrose are to cover up newspaper front pages in response to concerns about children being exposed to 'unsuitable' content.

Procter & Gamble is currently determining which elements of its UK operation will transfer to new Duracell owner Berkshire…

Marks & Spencer is widening the roll-out of a five-point action designed to reduce levels of campylobacter in whole chickens.

Chupa Chups Candy Pizza: acid test

Subscription

Christmas comes early as lager prices fall by 5%

Subscription
Recent blog posts
England's tears have barely had time to dry and already the World Cup merchandise sell-off is under way.

How does the new Coca-Cola Life compare to its stablemates?

How did The Grocer report on the build-up and aftermath of the D-Day landings in 1944?
Vince Bamford contributes to: