Vince Bamford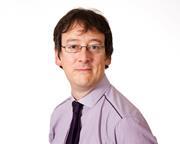 Vince is buying & supplying editor at The Grocer and covers news of developments in food, drink, entertainment, health & beauty and toys. Contact him with details of new product launches, other innovations and advertising campaigns.
Contact Info
Tel:

01293 610369
Recent stories
Isotope-based food testing had "real potential" to help verify where food and drink products are from, the FSA said this week

Walkers has previously struggled to crack the premium snacks market…

A new twist on an established product is a long-established strategy for food developers…
Recent blog posts
England's tears have barely had time to dry and already the World Cup merchandise sell-off is under way.

How does the new Coca-Cola Life compare to its stablemates?

How did The Grocer report on the build-up and aftermath of the D-Day landings in 1944?
Vince Bamford contributes to: