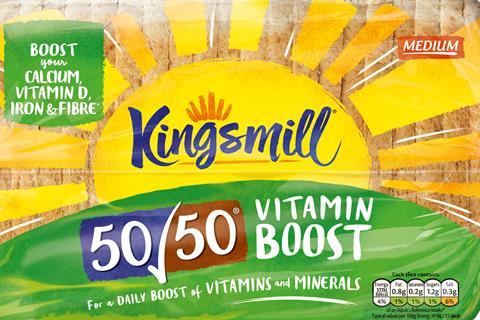 Kingsmill has continued to struggle in grocery despite intense demand for wrapped bread since the beginning of the year.
The Allied Bakeries brand bucked the upward sales trend of its category in the run-up to the UK's lockdown. It lost £9.6m as the coronavirus pandemic took hold – 18.5% of its value compared to the same period 12 months earlier [Nielsen 12 w/e 21 March 2020].
Conversely, Kingsmill's closest rivals, Warburtons and Hovis, grew by 11.2% and 2.2% respectively – adding a total of £17.6m in the first three months of 2020. At the same time, the larger wrapped bakery market made an extra £36.9m, a rise of 11.2%, as shoppers stocked up on bread, rolls, bagels and other products.
It comes after an extended period of hardship for Kingsmill in UK supermarkets. The brand had "struggled with delists for quite some time now and has missed the chance to jump on the innovation trends in other bakery recently" said Viviane Palmedo, senior client analytics executive at Nielsen.
As recently as early 2020, Kingsmill suffered a raft of delistings in the major mults – mainly Asda – following a 2019 in which the brand shed £40.9m, having seen SKUs axed by Tesco and Iceland among others.
However, Kingsmill enjoyed better fortunes in the final weeks before lockdown, with sales "running as high as 30% up on the same weeks last year" claimed Allied marketing director Matthew Cullum.
"We were able to increase production and deliveries to meet this increased demand and help our customers keep bread on shelves, although we did see some empty shelves for a couple of days despite everyone's best efforts"
Indeed, take-home sales across all bakery products, including in-store, accelerated greatly in the four weeks to 22 March. The category gained 17.8% in value, shifting an extra 56.7 million units – a 15.9% volume rise [Kantar].
The increased demand came after wrapped bakery had been "rather flat for many years" said Palmedo. However, it was "impossible to tell yet how sustainable this growth will be and whether this situation will change the demand for bakery in the long-term" she added.
"Currently, shoppers might be buying more products than they intend to consume, and the demand will go back to previous levels. Another scenario could be that shoppers will have rediscovered bread and bakery goods during this period and change their shopping habits in the long term."