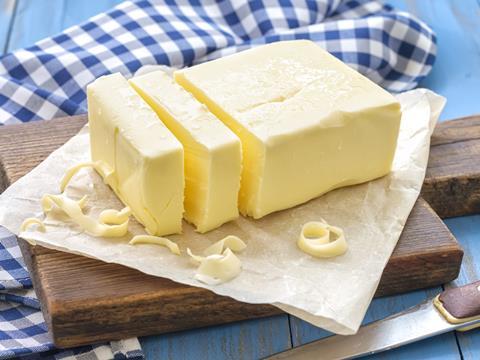 Prices for dairy commodities like butter and milk powder are set to fall next year as the recent period of inflation comes to an end and volatility returns to the sector, agrifood consultancy Promar has predicted.

Dairy commodity prices surged on the back of shortages this year, with butter prices hitting record highs of more than £6,000/kg during the summer, while UK average farmgate milk prices rose to 30.13ppl in September [AHDB].

However, global supplies are now loosening, with year-on-year UK milk production soaring to 4.5% to 1.13 million litres last month [AHDB], and Promar expects this will translate to falling commodity prices in the UK.

"Global dairy wholesale prices appear to be in decline after a period of strong growth over the last 12 months," said Promar consultant Lizzie Bonsall. "This change in the global marketplace has been caused by increased milk production, and quotations for butter, skimmed milk powder and whole milk powder easing in October."

Prices were starting to fall as some key import markets were holding back on butter and whole milk powder purchases, she noted, due to impending supplies from Oceania. Butter, for example, fell to £4,500/kg last month [AHDB], while European butter prices are down 30% since September, with indications of further falls in the new year, Bonsall said.

These factors, combined with falls in the actual milk price equivalent (AMPE) global price indicator (-11% between September and October), limited skimmed milk powder (SMP) demand in Europe and high SMP volumes in EU storage, could also have knock-on effects for global dairy prices, she suggested.

Although a drop in dairy commodity prices would be good news for consumers and food manufacturers, British producers should brace themselves for fluctuations in farmgate price next year, Bonsall warned.

"We are likely to see significant declines in farmgate milk price during the first part of 2018, based on latest market conditions," she said. "Although there is no indication that they will challenge the previous low prices witnessed in the previous milk price cycle."

It comes as some of the UK's leading dairy processors have already put the brakes on farmgate price increases.

Müller announced last week it would lower the farmgate milk price paid to its 700 Müller Direct farmers by 1.5ppl to 29.00ppl from January. Glanbia Cheese and Meadow Foods have also cut their prices during the past week, while First Milk announced today it would hold its price for a second month in a row for January.
First Milk vice chairman Jim Baird warned "dairy markets have weakened recently and so the outlook for the UK market continues to worsen".