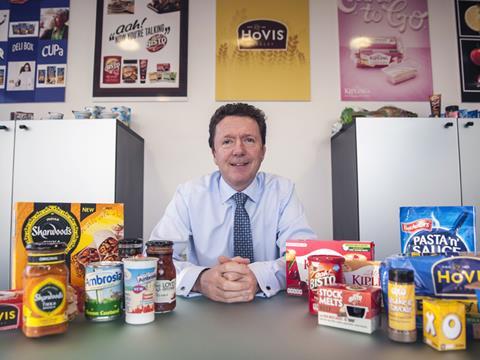 Top story
The boardroom battle at Premier Foods (PFD) is continuing into a second week, as second-largest investor Oasis Management described its "dismay" over comments by company chairman Keith Hamill in favour of re-electing current boss Gavin Darby.
In an interview with the Financial Times on Wednesday, Hamill defended the chief executive of the Mr Kipling manufacturer by saying Premier had become a "well-run and efficient entity thanks to Gavin's leadership".
Speaking after calls from activist investor Oasis last week to not re-appoint Darby, Hamill also said that the company's brands would not fetch a good price in the current "challenged climate".
The Hong-Kong based investment group which holds a stake of over 9% said it was "shocked" to see Hamill's "dismissive" comments about the company's brands.
The group has called on other investors, including the company's largest shareholder, Japan-based Nissin Foods, to vote against Darby's re-election at its AGM on 18 July, describing Premier as being in a "zombie-like state" under his stewardship.
It said it is "dismayed" by Hamill's defence of Darby in which Oasis believes he "denigrated" the company's brands when he said: "If you have domestic brands that the international market isn't interested in, you have to keep on working for good value — you can't successfully auction with weak cards."
It was "unprecedented and extraordinary" for the chairman of a company to describe its assets as "weak", said Oasis, which said these are instead "mis-managed gems".
Premier Foods, which also manufactures British staples including Oxo, Ambrosia and Bisto,heralded its "strongest annual performance in five years" last month, after sales grew 3.6%, as it continued to reduce its large company debts.
Oasis, which earlier this week issued a 14 page documented titled "five years of failure under Gavin Darby", said it had been "patient" but that it "appears the board have simply given up".
"We are shocked to see a FTSE Chairman speak so dismissively of his company's brands and we believe this is a further example of the Board's lacklustre culture at Premier Foods," a spokesman for Oasis commented.
"In our view, it sounds like the board has simply given up. Shareholders, pensioners, employees and customers deserve their company to be led by someone who believes, like we do, in the brands and in a better future for Premier Foods.
"Oasis will be voting against Gavin Darby's re-election at the forthcoming AGM on 18 July 2018 and urges fellow shareholders to do the same."
Morning update
UK consumers are feeling "less upbeat" with fewer people wanting to make big purchases, according to the most recent consumer confidence survey.
The long-standing GFK Consumer Confidence Index dropped two points, with consumers now less confident about the economy ahead of Brexit.
The index highlights continuing austerity, with an increase in people choosing to save alongside a fall in those making larger purchases.
Shoppers are "holding onto their cash" and following a path of "self-imposed austerity", said Joe Staton, client strategy director at GfK.
"Consumers are yet again feeling less upbeat as is evident from the two-point drop in the Overall Index Score this month," he commented.
"When will the strong jobs market and low interest rates boost the economic mood? That's the key to confidence increasing more generally. Meanwhile, with Britain's hard-pressed retail sector very much in the news, there is little comfort in the one-point drop to zero in the Major Purchase Index. Shoppers are holding on to their cash and consumers in general seem set on their path of self-imposed austerity.
"The Overall Index Score has now registered at zero or negative for 30-months. Contrast that with 2015 – when there was a full year of positive numbers. The trend since those 2015 figures has been resolutely downwards and it's difficult to see the direction changing in the run-up to the UK leaving the European Union in March 2019."
People's confidence regarding the General Economic Situation over the past 12 months has fallen four points to -28 points in the index.
Those surveyed also said their expectations for the future General Economic Situation also dropped four points to -25 points.
The index highlight how positive people feel about changes to personal finances dropped this month to 0, although this remained one higher than the same period in 2017.
In the index reflecting consumers' forecast of personal finances, consumers showed increasing pessimism as it decreased two points to six in total.
The percentage of people who said they were making major purchases dropped one point over the month to 0.
People's preference for saving however increased, as the savings index increased one point to eight, four points ahead of July 2017.
Elsewhere, in this week's copy of The Grocer, we have reports on Tate & Lyle Sugars blaming a dramatic increase in losses on EU sugar policies, falling profits at 2 Sisters following a restructure of its protein division, a rescue deal to save pet product supplier Petface from administration and more.
Check out the thegrocer.co.uk/finance later today for the full stories.
In early trading, the FTSE 100 has immediately rebounded to yesterday's slump, jumping 1% to 7,693pts despite ongoing trade concerns affecting global sentiment.
Premier Foods (PFD) has had a boost, moving up 2.3% to 37.7p as shareholder Oasis continues to call for new leadership.
Other risers this morning include British American Tobacco (BATS), up 1.9% to 3,951p, Just East (JE.), up 1.4% to 781.6p and Imperial brands (IMB), up 1.2% to 2,846p.
This morning's early fallers include Carr's Group, down 1.9% to 146.2p, McColls (MCLS), down 1% to 208p and PZ Cussons (PZC), down just 0.3% to 222.4p.
Yesterday in the city
The FTSE 100 followed the pattern of indexes across Europe, as continuing trade fears dented sentiment and saw it drop into the red.
Despite undulating in value over the say, the FTSE ended 0.8% down at 7,615pts, with conflicting messages from the White House doing little to diminish traders' concerns.
Just Eat (JE) had a slight recovery, moving up 2.1% to 770.8p, after it slumped 7% on Wednesday as the company told investors that profits could be subdued by increased investment costs.
The days' trading was also positive for risers including Imperial Brands (IMB) , up 2.8% to 2,811p, British American Tobacco (BATS), up 2.5% to 3,877p and PZ Cussons (PZC), up 1.3% to 223p.
Brewer Greene King (GNK) had a day to forget, after it announced a 11.4% decline in profits, as it suffered from the cold British winter and increasing costs.
Following the announcement of its annual results to 29 April 2018, which also saw group revenues down 1.8%, the company saw its shares slide 9% to 581p.
Other fallers from the days' trading included Ocado Group (OCDO), down 2.7% to 1,032p, ABF (ABF), down 2.5% to 2,740p and McColls (MCLS), down 2.3% to 210p.