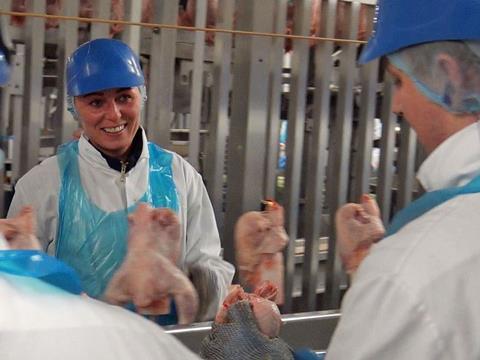 Top story
UK chicken giant 2 Sisters saw headline profits rocket in its third quarter, as it was buoyed by the £200m sale of Goodfellas to Nomad Foods.
Sales at the supplier rose 1.8% for the 13 weeks ending 28 April 2018 to £836.7m, with like-for-like sales up by 1.3%.
The performance at Boparan Holdings Limited was "markedly improved", the company said, with cash flow strengthened by the £200m sale of the frozen pizza brand on 23 April.
Despite a 77% collapse in operating profits, to £3.1m, the Goodfellas deal saw profits before tax and interest (including exceptional items), shoot up to £97.4m.
Nevertheless, the company highlighted the disappointing performance of its protein division, with year-on-year volume growth more than offset by the negative impact of beef, poultry and fish price inflation.
Like-for-like sales in the division increased 1.2% to £588.6m, but the division slumped from a £6.7m operating profit in the same period last year, to a £5.8m operating loss.
In the financial report, the company said that its four announced site closures will reduce overheads by around £20m as it attempts to improve cost efficiencies.
The poultry arm of the business was the subject of a high-profile investigation by the Guardian and ITV last September, which alleged food hygiene breaches at one of its chicken processing plants. Earlier this month 2 Sisters was released from emergency measures by the FSA.
The company's chilled division saw modest sales improvement, up from £148.1m to £148.6m, but saw operating profits increase to £3.1m on the back of cost reductions.
Branded sales also increased, by £3.3m to £99.5m, with only a marginal impact from the Goodfellas sale in the period.
Money generated from the sale of the pizza business has been used to reduce the net debt of the company by £172.1m to £662.6m.
Last month, the company announced that it had appointed former Muller boss Ronald Kers to lead the day-to-day running of the supplier, as Ranjit Singh became company president.
"During the third quarter we delivered performance in line with our expectations, as messaged in our Q2 call. We have also strengthened our balance sheet considerably with the disposal of the Goodfella's pizza business," said president of Boparan Holdings Limited, Ranjit Singh.
"We are making good progress with our Change programme as we refocus on our core strengths.
"The appointment of Ronald Kers as CEO will help to further accelerate the work we have already started to change our business, introducing greater transparency, a stronger colleague voice, and simplifying a complex organisation.
"Under Ronald's leadership I am confident we can take the business performance to the next level, with our focus on what has always been at the heart of our business - delivering great quality food at competitive prices for our customers."
Morning update
The boardroom battle at Premier Foods (PFD) has intensified over the weekend, as activist investor, and second-largest shareholder at the food manufacturer, Oasis Management calling for CEO Gavin Darby's immediate removal, describing the company as being in a "zombie-like state".
The investment group, which said it owns a 9.3% stake in the company, has said that current CEO has overseen "five years of failure" at the heavily indebted Mr Kipling manufacturer.
Oasis said on Thursday that it would be voting against the re-appointment of Darby at the company AGM on 19 July.
The board at Premier Foods issued a statement stating its support for the current chief, describing Darby as the "best person to lead the company".
In the company's latest set of annual results, revenues grew 3.6% to £819.2m with profit growth of 5.1%. The company also reduced its debts from £523.2m to £496.4m over the year.
Darby oversaw Premier's decision to reject a £537m approach from American herb and spice company in 2016. Oasis said that the company's share price has fallen 39% since the rejected approach.
The Japan Times reports that Oasis is calling on Premier's largest shareholder, Nissin, which owns around 20%, to object to Darby's reappointment.
It has been reported that chairman of Premier, Keith Hammill, is organising emergency meetings with investors to gather support for the current CEO.
"Gavin Darby has overseen five years of failure which has led to considerable destruction of shareholder value," the company said in a statement.
"The equity market has long lost faith in his leadership, and in our view his self-interest and self-preservation, which we will no doubt see much of over the coming weeks, have driven a culture which does not respect the interests of shareholders.
"Darby, who frustratingly has driven Premier Foods into its current zombie-like state, has no credible strategy to return Premier Foods to growth and as the largest independent shareholder, we have completely lost faith in him."
Daniel Wosner from Oasis Management resigned as a non-executive director of the company in March, losing Oasis' seat from the board.
Darby has been CEO at the Oxo and Sharwoods manufacturer since 2013, when he joined following fifteen years at the Coca-Cola company.
On the markets this morning, the FTSE 100 has sunk 0.6% in early morning trading to 7,636pts as Donald Trump threatened a new clampdown on Chinese investment, hitting global markets.
A.G. Barr (BAG) has started the morning by slipping 1.5% to 684.6p. Other early fallers in the sector include Wetherspoons (JDW), down 1.1% to 1,249p, Greencore (GNC), down 1.1% to 183p and Stobart Group (STOB), down 0.8% to 241p.
Early risers this morning included Premier Foods (PFD), up 3.2% to 38.3p, forecourt retailer Applegreen (APGN), up 0.9% to 562.2p and PayPoint (PAY), up 0.9% to 975.4p.
This week in the City
It is set to be another fairly quiet week in the city, with just a small smattering of results announcements on their way.
Of most note is the Kantar/Nielsen monthly grocery market share figures out tomorrow morning.
On Wednesday, Whitbread will reveal its results for the first quarter of 2018, ahead of its planned separation with Costa coffee on the index. Alison Brittain is expected to face questioning with a number of private equity groups understood to be eyeing up the high street chain.
There is also scheduled to be a strategy update from John Lewis Partnership.
On the same day, Haagen-Dasz maker and US consumer goods giant General Mills will reveal its full year results.
On Thursday, brewer and pub company Greene King (GNK) is scheduled to release its full year results.
US owner of Boots, Walgreens Boots Alliance (WBA), will be revealing its third quarter results on Thursday, which will also see the Dr Pepper Snapple Group host its annual general
On the following Friday, US supermarket company Kroger will host its AGM, shortly after recording a jump in first quarter earnings boosted shares by as much as 9.6%.
In economic news, the monthly consumer confidence figures from GFK are set to be released on Friday, as is the final estimate for the UK's Q1 GDP figure.