Morrisons adds asparagus to its wonky fruit & veg range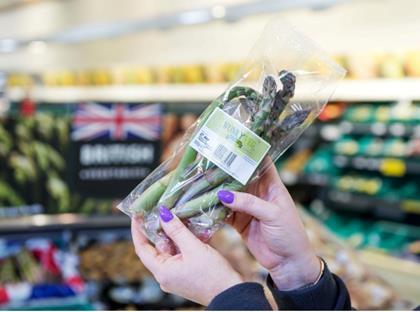 Morrisons has further expanded its wonky fruit and veg range with the addition of a British asparagus line.
The Herefordshire crop will join the retailer's 14-strong range of wonky fresh produce from this week. Morrisons claims the product will be the cheapest asparagus on the market, at £1 per 180g bag.

The retailer has created the line to "help growers sell the crop" after a warm early spring encouraged asparagus shoots to push up early. As early spring sun levels are low, some of the crop has grown in a wonky shape as it tracked the sun.

"We've stepped in to buy the crop as we wanted to help growers and put this normally luxury ingredient into the hands of shoppers for just a pound," said Morrisons asparagus buyer Michael Weightman.

James Dale, general manager at grower Flamingo Produce, said: "The warm early spring and temperature fluctuations have resulted in 10% to 15% of our asparagus crop growing wonky this spring. But it's only their shape which is different.

"Growing asparagus takes many years of hard work, so we're grateful that this part of the crop is being sold on to customers and will not be wasted."

It comes as the English asparagus season began three weeks early this year, due to warm weather resulting in an early harvest. Jubilee asparagus arrived on Tesco shelves at the end of March, despite traditionally being available from late April.