Anuga is massive - 6,500 exhibitors gather in Cologne every two years taking over the 11 halls of Koelnmesse to deliver the world's biggest food trade show.

It's clearly a place to do business, but it's also a chance to showcase innovation - the kinds of new products, brands, flavours, recipes and packaging that will open up new market sectors in the near future.

So what was new this year? Here are the top trends:

Small, but perfectly formed: Sweet treats seem to be moving towards smaller formats; permissive indulgence with fewer calories. There were a number of bakery and patisserie businesses offering perfect-looking miniature treats - pastries, eclairs, muffins - that were barely more than a mouthful.

Belgian manufacturer Rolph & Rolph was showcasing a range of desserts in shot glasses targeting the foodservice trade - small, beautiful, indulgent and in a delivery format that is both practical and a little decadent at the same time.

Nature's sweets: Dried fruits and berries were much in evidence through a range of snacking products that offer a healthy alternative to confectionery, or a longer-life alternative to fresh fruit.

The latest superfood to emerge is the goldenberry. UK-based Terrafertil has introduced this native South American fruit via dried fruit snack packs and juice drinks, emphasising its vitamins, minerals and antioxidants.

Germany's Kluth was promoting cranberries as a snack food, while blueberries made an appearance as a soup ingredient in Santa Teresa's Gazpacho.

Virtuous vegetables: All around the show there were examples of vegetables being used as an 'addition' to products.

Crackers, cold meats, muffins and even ice cream were using veg as ingredients to deliver a greater sense of goodness.

The war on sugar: The high-profile battle to cut sugar consumption is prompting manufacturers in sectors that have traditionally relied upon sugar to seek alternative forms of sweetness.

So UK business Diablo has created a range of "guilt-free" chocolate, countlines, spreads and cereal bars with no added sugar. South African-based Roses Handmade Confectionery has developed a new brand, Know Sugar, that is initially delivering a range of tasty chocolate nougat snack bars - again with sugar substitutes.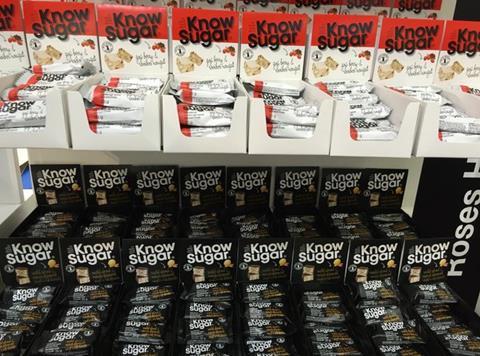 Sweet on honey: Sugar may be 'bad', but honey appears to be very good. Honey was very prevalent at Anuga.

All manner of honeys were on offer, and it was also being used as a highlighted flavour or ingredient in products from snack bars and goats cheese to mustard and soft drinks.

UK-based Ogilvy's offers "pure raw honey from around the world", exemplifying the range of different varieties, flavours and applications.

New ways to protein: The focus on high-protein foods has been here for a little while, but Anuga introduced us to some new formats.

Nom from Austria was displaying a new range of protein-rich yoghurts and yoghurt drinks under the Fasten brand. Lizi's Granola from the UK had a new High Protein granola that was already attracting interest from supermarket buyers.

There were also protein drinks made from egg white, with the White brand being the most prominent exponent.

Energy beyond drinks: Several products offered an energy hit (natural or otherwise) in a more solid format.

Devilion is a Greek brand that offers "Hard Energy Candy" - basically all the properties of an energy drink but in the form of a sweet. It seems like an obvious sector extension.

Californian almond business Blue Diamond was displaying a somewhat more virtuous energy booster through its Refuel Roasted Coffee almonds - combining natural health properties with a caffeine hit.

Commercial filter: Innovation at Anuga seems more considered than at some other shows - there's less from the artisan kitchen, more from the established manufacturer. There seems to be more of a commercial filter applied. Although some of these ideas may prove to be fads, there are others we expect to blossom into significant new sectors or traits. Let's see if we're right…

Chris Blythe is strategy director at The Brand Nursery