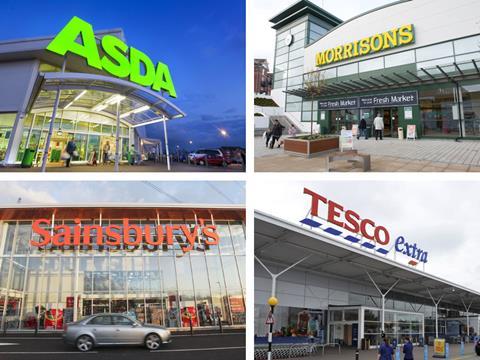 There goes another Super Thursday, though how super it was depends on which supermarket you're talking about. Tesco was the best of the bunch, with 2.6% growth. Waitrose kept its head above water by 0.3%. And M&S hailed its improved 2.1% decline in food "solid".
Solid is a good word, though, to describe the overall picture across the major multiples over the various Christmas trading periods reported this week. Not that you would think this from reading the Mail. 'Waitrose in Christmas wipeout,' it screamed this week, in reference to the 12-week Kantar read. The next day it had 'Sainsbury's suffers Christmas shocker'. But these results were hardly a catastrophe. True, GM sales were down a disappointing 2.3% at Sainsbury's (you can be sure they didn't fall at Amazon because of Black Friday) but against the backdrop of 'the worst Christmas since 2008', the 0.4% growth in Sainsbury's grocery sales was one of several reminders that food and drink is more resilient than the high street as a whole.
Of course, it wasn't that long ago Asda sales were falling 7.5%, but grocers are inured not only by the non-discretionary nature of food and drink, but also through its resilience to online competitors, despite evidence of their own growth. That points either to a ceiling on consumer demand to shop for food online, or capacity constraints to deliver over Christmas. Based on the 3.6% wholesale growth Morrisons recorded, it certainly seems Amazon's 1% online fmcg share was one of the few metrics that hasn't moved significantly for the online giant. Yet.
While we're reflecting on the state of the high street vs 2008/9, it's interesting to consider that 10 years ago, Morrisons topped the charts that Christmas with sales growth of 9.1%. With limited store opening programmes (apart from for the discounters) those heady days are gone for the big four. But inflation is lower too, through annualisation, via price cuts, and through customers trading down, with the CEOs of Tesco, Sainsbury's and Morrisons all noting a flight to value and mid-tier lines. Or to put it another way, trading up at Christmas clearly meant switching to a discounter for many. It used to be the other way around.