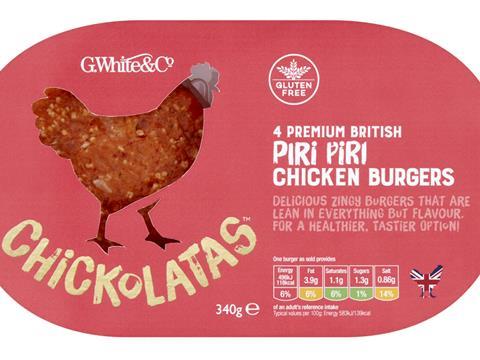 Porky Whites owner Graham White & Co has expanded its Chickolatas chicken sausage range to include burgers.

The brand is set to launch two SKUs into Asda in the coming weeks, bringing the number of products in the Chickolatas lineup to three after it debuted a roast chicken flavoured sausage in January this year.

Its new Piri Piri Chicken Burgers and Classic Italian Style Chicken Chipolatas with sundried tomatoes, mozzarella, basil and garlic (rsp: £3-£3.20/340g) contain 85% Red Tractor chicken.

The launch sought to capitalise on growing demand for chicken burgers and sausages by providing a leaner option to red meat that was also premium, gluten-free and low in fat and salt, said Graham White & Co MD Chris Price.
Prior to the launch of its chicken range, the sausage specialist had previously worked on lines of chicken sausages for online health food retailer Muscle Food.