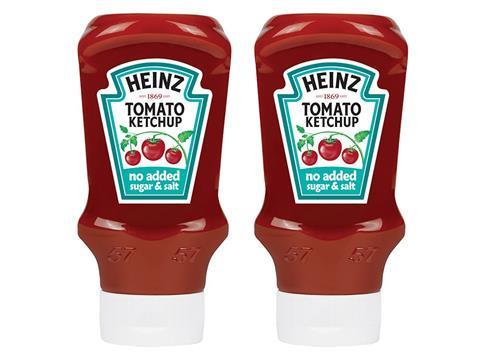 Kraft Heinz has grown its portfolio of healthier options with its first-ever tomato ketchup with no added sugar or salt.
The result of around 10 months' development, Heinz No Added Sugar & Salt Tomato Ketchup (rsp: £1.99/425g) is sweetened with sucralose and contains 4.6g of sugar per 100g, making it almost 80% lower than the 22.8g in original Tomato Ketchup.
The new table sauce also has just 0.06g of salt and 45 calories per 100g, compared with the original's 1.8g of salt and 102kcals.
The launch came in response to fast-rising demand for reduced sugar and salt ketchups, said Kraft Heinz.
A surge in sales of healthier ketchups last year was "largely driven by the launch of Heinz Tomato Ketchup 50% Less Sugar & Salt", which hit shelves in January to replace the 50% Less Sugars & 25% Less Salt variant. Containing 64kcals per 100g, it was followed in 2017 by other healthier Heinz options, including a No Added Sugar lineup of canned soup and No Added Sugar Heinz Hoops.
"We are actively pursuing a dedicated health strategy, with ongoing gradual reductions to sugar and salt levels in our standard products," said Kraft Heinz brand manager Sam Ford.
The new ketchup meant Kraft Heinz could offer "even more variety and help families make positive lifestyle choices" he added.
Backed from June by a £1.3m push, the NPD comes after PHE urged suppliers in March to cut calories by 20% by 2024 from a raft of categories including table sauce.