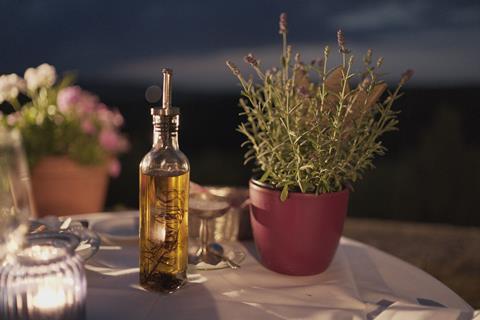 Good things never last. A case in point: the plentiful supply of olive oil looks like it's coming to an end. The year began with a metaphorical "lake of olive oil in the Mediterranean" according to Walter Zanre, MD of Filippo Berio UK. But reduced harvests across southern Europe have tightened supplies, and so prices have started to creep up.
"For the past two years, we've had a good supply of olive oil that's kept prices down," says Zanre. "We've reached the end of that. We're on the upside of the cycle for sure."
Across the seven million litres it's sold this year, Filippo Berio's average price is up by 4.4%. With the Italian olive harvest expected to be down by almost half on last year, further price hikes are expected. "We're faced with a double-digit percentage increase in the cost of oil this year," says Zanre. "Chuck into the mix the currency changes and you're probably looking at 15% to 20%."
The weather might make that less dramatic. Kim Matthews, commercial director at Edible Oils, points to the rains emerging across southern Europe, which could improve yields and put a cap on short-term price rises.
Yet the size of harvests isn't the only factor set to determine future prices. Of greater concern to suppliers are tariffs that could be inflicted on goods arriving from the EU if the UK does not reach a trade deal with Brussels by the end of the year. Tariffs on olive oil will be about a pound a litre – a level that "would really destroy us", fears Zanre. "That's such a big increase there's no question that would see a significant drop in consumption."
That would be in sharp contrast to this year, which has seen consumption go through the roof. The oils market has added £45.2m to its value, having shifted an extra 15.6 million litres due to the explosion in scratch cooking.
So shoppers are unlikely to abandon their new habits altogether as prices rise. They're more likely to "change from branded to own-brand, some will change pack size, and some may shift to try and find a cheaper oil to olive oil" believes Neil Brownbill, commercial director at Napolina. "It's often a combination of all three."
A shift to alternative oils could be further driven by suppliers. The possibility of tariffs has forced some to examine other options, says Matthews. Rapeseed oil is the obvious choice. Much is produced in the UK, and it's growing in popularity – with brands like Crisp 'n Dry (up £2.3m) cashing in.
While extreme weather and destruction by the cabbage stem flea beetle caused the UK rapeseed crop to fall dramatically this year, supplies are plentiful abroad. And with tariffs set to be less than 10%, there should be little impact on supplies.
But not all Brits will turn to the cheapest option. As the recession hits home, Brownbill believes two groups of shoppers will emerge. "There will be the consumers who really do feel the pressure and will be very careful about what they spend the money on," he says. "But people who have not been economically affected by lockdown will trade up to enhance their in-home eating occasions, and will try to replicate out-of-home eating in the home." In which case, olive oil could still cash in.
Top Products 2020
In association with Nielsen
Top 15 Oils
£m
£ change
%
Total volume change:
18.4%
Total Category:
279.7
45.2
19.3
Total Own Label:
114.1
14.8
14.8
This year's rank
Last year's rank
Brand
Manufacturer
£m
change (£m)
change (%)
1
1
Filippo Berio
Salov
43.0
11.8
37.7
2
3
KTC
KTC Edibles
24.5
6.1
33.1
3
2
Napolina
Princes
23.4
1.8
8.3
4
4
Crisp 'n Dry
Edible Oils
18.8
2.3
14.1
5
5
Fry Light
Saputo
15.8
1.4
9.4
6
6
Flora
Edible Oils
12.0
3.0
33.3
7
7
Farchioni
Farchioni
5.6
1.1
24.3
8
9
La Española
Acesur
5.5
3.0
122.7
9
8
Olivio
Edible Oils
3.8
–0.3
–8.0
10
10
Happy Shopper
Booker
1.9
0.2
13.2
11
12
Mazola
Edible Oils
1.3
0.0
2.2
12
13
Alfa One
Old Fashioned Foods
1.3
0.0
6.2
13
11
Lucy Bee
Lucy Bee
1.2
–0.2
–12.1
14
14
Vita Coco
All Market
1.1
–0.1
–8.6
15
15
Carotino
Carotino UK
1.0
0.2
20.9
The Grocer's Top Launch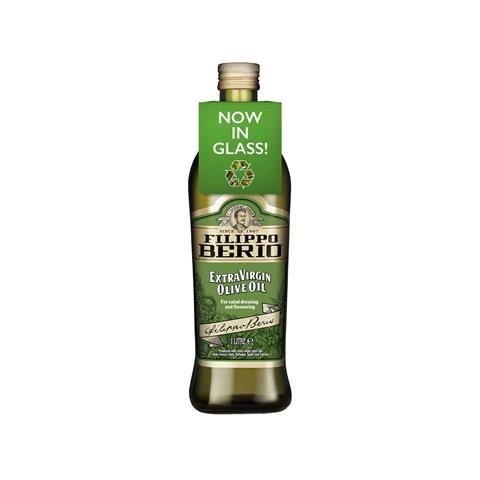 Filippo Berio 1l glass bottle, Salov
Number one oils brand Filippo Berio had already expelled plastic packaging from most of its range by February. The switch of its one-litre bottle from plastic to glass helped complete that move. The more sustainable bottle is expected to remove more than 68 tonnes of plastic a year from the waste stream, says the brand. And it ought to please shoppers, who had made clear to Filippo Berio "they loved" the glass bottles previously introduced.